Welcome, Terre Stregate!
Now Available in Texas
Terre Stregate was founded in 1988 by Armando Iacobucci, and today it is run by his children Filomena and Carlo. The family is in its 5th generation of winemaking, starting in 1898 with Filippo Iacobucci. The winery is located in the hills of the Campania of Sannio Beneventano in the province of Benevento, whose most famous landmark is the Trajan Arch. (Vineyards pictured, right. Image courtesy of Terre Stregate)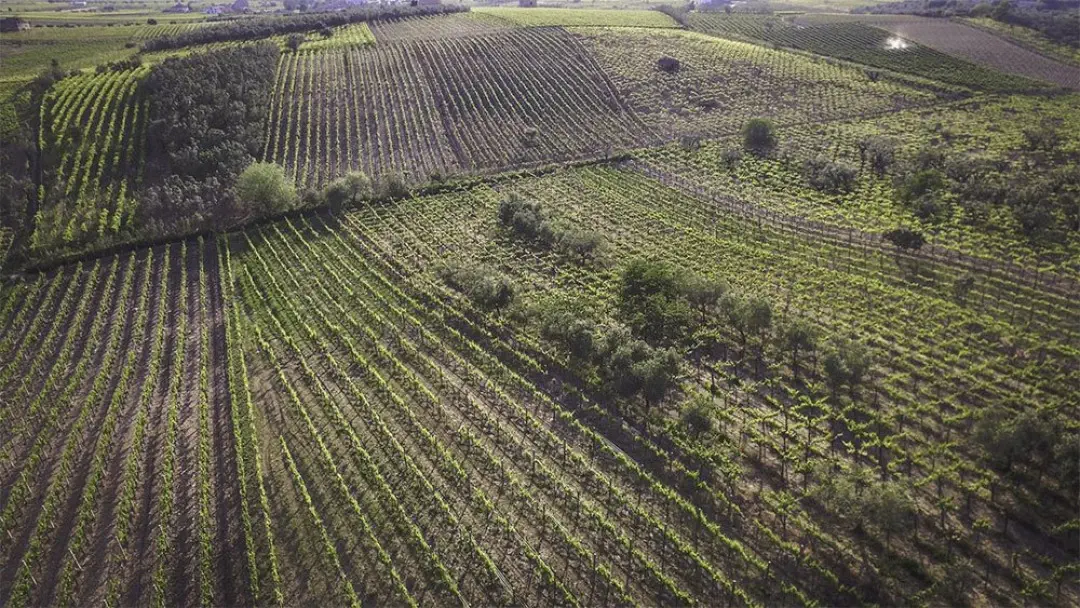 Legend has it that witches from the village of Benevento have long gathered under a walnut tree on the banks of the river Calore. Inspired by the local mythology of the region, intricately threaded with mysticism, art, and historical tradition, the Iacobuccis settled upon the name "Terre Stregate", or "Bewitched Lands". While the family has been producing wine on the Campanian farm for generations, production halted in the late 1960s and the family focused exclusively on olive oil. Wine production was resumed and expanded with the 2004 vintage, and today, the family runs a very modern, technically impressive, underground wine cellar with a beautifully elegant, rustic interior. 
The picturesque winery is surrounded by vineyards and olive groves and nurtured by innovative equipment and practices. Twenty-five hectares focus on the indigenous, ethereal and cryptic varieties of the region: Falanghina, Greco, Fiano, and Aglianico. The entire estate is organic. Terre Stregate does not use herbicides, pesticides, or chemical fertilizers.
The symbol of the winery is a circle for the sun, who stays with the vines by day; the moon, who is their companion at night; and the eye, perhaps the witch's eye, but certainly also the vision of the family–to create something new by working in harmony with the magical gifts of nature. Dedicated to preserving the region's ancient grapes, including Aglianico, Falanghina, and Greco, the names of each wine weave local mythology with the history of this family that reaches so far back into the ancient hills of Sannio. Serendipity currently offers the 'Arcano', 'Manent', 'Aurora', and 'Svelato'.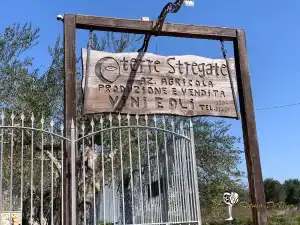 Entrance to Terre Stregate
Image courtesy of Ritmo DiVino
Some content originally sourced from Artisanal Cellars.
Serendipity is excited to supply these unique varietals from a lesser-known region to the Texas market. Want to try them yourself? Check out the full lineup, then fill out the contact form below!