Welcome, Wine for the World!
Two New Brands, Now Available in Texas
Wine for the World is a young wine import company working exclusively with boutique producers and artisanal family vineyards. Serendipity is excited to be partnering with Wine for the World to help consumers discover delicious, thoughtful wines from unconventional wine regions, such as the offerings from Família Geisse and Ktimi Brintziki. Photo courtesy of Wine for the World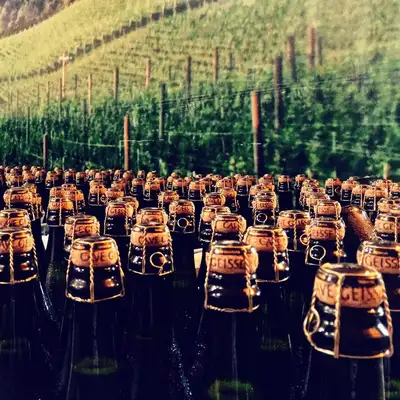 In addition to scouting top producers from each region, W4tW seeks winemakers that embrace environmentally sustainable practices because they, like us, philisophically believe that better wine is made without the use of many additives or manipulation. They are certified by local and/or international organizations for sustainable viticulture practices. Their producers employ respectful work environments and fair labor practices for all workers – including living, not just minimum, wages.
Two Micro Production Brands Delivering Macro Flavor
Cave Geisse is a boutique, internationally acclaimed producer of fine sparking wine in the south of Brazil.

The Geisse family, originally from Chile, moved to Pinto Bandeira, Brazil to unleash the potential of the mineral composition found in the southern region's soil and perfect for crafting high quality, sparkling wine. The family grows only Chardonnay and Pinot Noir, with distinctive blends made for different lines. Time on lees ranges from a minimum of 12 months up to 14 years.

In addition, the Geisse Winery is committed to the health of the environment, its employees, and customers. Using zero pesticides, the winery has adopted a Chilean technology called the Thermal Pest Control (TPC) system, which negates the need for pesticides. This technique protects and stimulates the self-defense mechanism of the vine, resulting in even higher quality wines – while keeping chemicals out of their fine products.

Geisse Winery further has generous labor policies and offers standalone family homes on the vineyard to its employees, while also providing living wages.

Serendipity currently carries the Cave Amadeu Brut Rose.
The Brintziki Estate is a producer of indigenous, rare varietals and is considered to be Greece's first green winery. Located in the Ilian region of the Peloponnese near the sacred town of Ancient Olympia, the family-owned property is certified organic and completely carbon-neutral through the use of renewable solar and geothermal energy. They grow indigenous varietals – some, like the Tinaktorogos, old enough to be referenced by Homer – and use natural yeast for most of their wines.

Philosophically, the Brintzikis believe that organic certification is the modern expression of what their ancestors did for thousands of years – to farm simply, and treat the land and people with enduring respect. Their 15 hectare, clay-soil property sits 300m above sea level near the river Enipeas.

Serendipity currently offers the Melios Red, Melios White, and Enipeas wines from the Ktima Brintziki collection.
Serendipity is honored to bring these unique micro-production wines to the Texas market. Want to try them yourself? Fill out the contact form below!