Welcome, Bergh!
Now Available in California
Since the young age of 16, Ewald Gruber (pictured right), whose family had been growing vines in Röschitz since 1814, was slated to become one of Austria's best wine growers. Many years, and many vintages later, he now manages the family company together with his siblings Maria and Christian. The family vineyards are 100% organic, and are situated in the sub-region Weinviertel, within Niederösterreich. They focus on producing single varietal wines from notable Austrian grapes such as Gruner Veltliner, dry Riesling, and Zweigelt. Image credit: gruber-roeschitz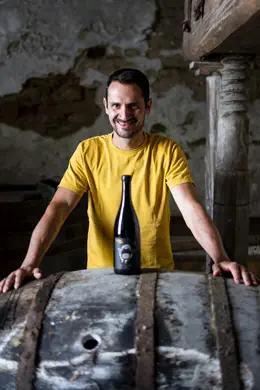 The Grubers view the soil as their most valuable resource, and use organic methods out of conviction and to build stronger character & identity in their wines. They have observed earlier ripening of the grapes since moving to organic vineyard management. With earlier ripening, grapes develop less sugar and thus less alcohol, require less sulfur, and provide for fresh, long-lived and straightforward wines!
Röschitz is situated in northern Weinviertel on the slopes of Manhartsberg. With an average temperature of 9.5°C, it counts among the cool wine producing regions.

Principally gravel, sand, and loess characterize Weinviertel. In contrast, Röschitz instead has primary rock soils with granite and partial shallow loess top soil, making for outstanding conditions for growing wine – perhaps even the best in all of Weinviertel.

The crystalline primary rock, together with the rather cool climate, enable an especially mineral, spicy wine profile.
Serendipity is excited to bring these organic, character-driven wines to California. Have you tried them yet? Check out the full lineup, then fill out the contact form below!