Welcome,

Château

Beaubois!
Now Available in Texas
Sister and brother team Fanny and François Boyer (pictured, right) are the 4th generation of their family to own Château Beaubois, established in 1920 and covering a total of 60 hectares in the Costières de Nîmes AOC of the Southern Rhone Valley. They bring out the best of their unique terroir, producing wines of pure freshness, elegance, and depth. Bordering the marshy Camargue plane and influenced by the nearby Cevennes mountain rage, nature plays a key role in wine production and style. 
Image credit: Cavavin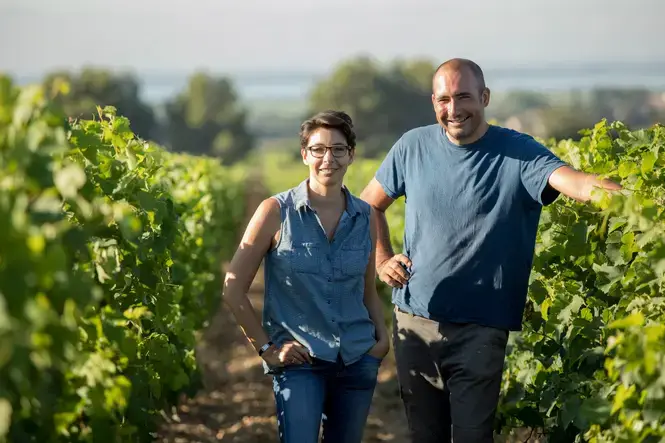 The Boyers are pioneers in an appellation known for its innovation and commitment to sustainability. Their winery was the first to go Terra Vitis 20 years ago, gained organic certification in 2009, and vintages from 2017 on are certified Biodynamic as well. Serendipity currently offers the 'Cuvee Expression' line, which includes a Blanc, Rosé, and Rouge.
Château Beaubois was first established as a working winery from 1920-1947 by Margueritte and René Mouret. He was a country doctor on horse, and she was one of the first women in the region to manage a winery. "They have registered the first pages of our family history on this terroir. Leaving the cooperative in order to vinify the first parcels of the winery." The Boyer family acquired this Domaine in 1920 celebrated their 100th anniversary in 2020.
"Our vision is to express and restore the whole truth of our terroir, magnifying the purity and the elegance of our wines. We look to the future with new creativity, while taking inspiration from the familial winemaking experience. Hard Work, Passion, Respect, Share, are the key words of the winery." — Château Beaubois
Serendipity is excited to bring the unique terroir of Costières de Nîmes to Texas with Château Beaubois' delicious Biodynamic offerings. Want to try these wines yourself? Check out the full lineup, then fill out the contact form below!