Welcome, Eco Terreno!
Now Available in Texas
In 1980, Mark Lyon (pictured, right) purchased 149 acres of vineyards located at the northern end of Alexander Valley. Originally planted in early 1970 by Rodney Strong, the estate is famous for producing exceptional Bordeaux varietals and has some of the oldest producing Sauvignon Blanc and Cabernet Sauvignon vines in Sonoma County. Mark, one of the most well-known LGBTQ winemakers in North America, is an experienced winegrower with a degree from UC Davis and over 4 decades of winemaking experience, many years of which he spent at Sebastiani Vineyards. Photo courtesy of Eco Terreno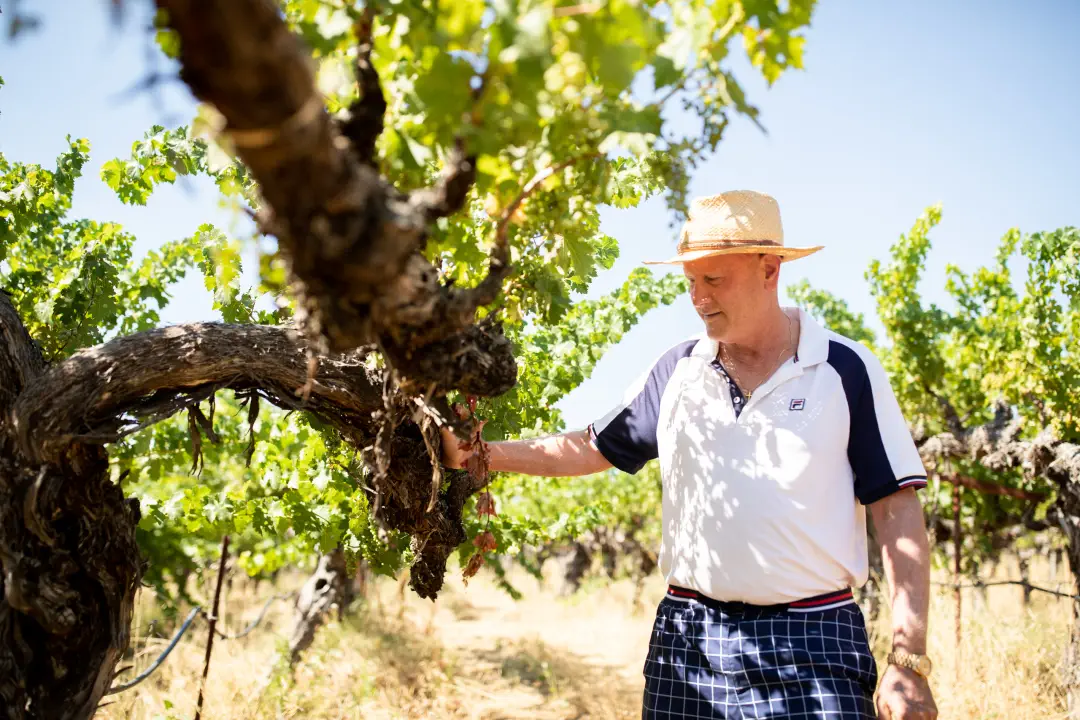 Founded in 2012, Eco Terreno Wines is an authentic reflection of place, its name translates in Spanish means "land ecology" and "of the land"" in Italian. With focused care and a joy of farming, Eco Terreno Wines represents the intrinsic flavors of Sonoma County's renown Alexander Valley and the benefits of Demeter USA certified biodynamic, estate grown grapes.
Wines Made with Pride and Respect for the Land
 After a visit to Bordeaux in 2012, Mark became determined to capture their expression of regenerative, clean farming in his own wines. Eco Terreno Wines & Vineyards successfully transitioned to a Demeter USA certification in 2017, making them the largest biodynamically farmed contiguous vineyard in Alexander Valley.
They are 100% estate grown and certified organic, and practice regenerative farming through the benefits of cover crops, bee gardens, husbandry, and water usage. These efforts create a harmonious ecosystem that benefits the vineyard and heals the land itself, damaged after years of industrial agriculture. From the irrigation pond, filled seasonally by the natural run-off from the winter rains and used to water the vines, to the chickens and sheep that fertilize and protect them from pests and weeds, each aspect of the farm benefits from and assists one another. This results in happy, healthy vines that showcase what nature does best: producing fruit that is truly expressive of its surroundings- without chemical manipulation.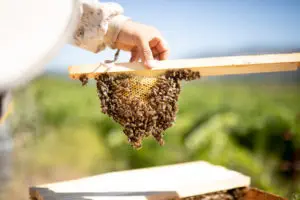 Beekeeping at Eco Terreno Wine Farm
Image courtesy of Eco Terreno
Eco Terreno is equally conscious about their social impact. They support over 30 non-profit partners and their efforts with donations, time, event space, and more. In 2019, Eco launched a "purpose" line of wines (including the Pink Pride Rosé) that give back to marginalized communities and causes. Serendipity is proud to bring this Rosé, in addition to the Sauvignon Blanc and Cabernet Sauvignon, to the Texas market. Want to try them yourself? Check out the full lineup, then fill out the contact form below!