Welcome, Nals Margreid!
Now Available in California
Nals Margreid's winemaking tradition dates back to 1764, when the Campi estate was built on the site of today's winery. The Nals winery was founded in 1932, then merged with Margreid-Entiklar in 1985 to become Nals Margreid. Today, 138 winegrowing families cultivate around 160 hectares of vineyards. These vineyards extend from Nals, a little town between Bozen and Meran (Merano), all the way to Margreid in the sunny, southern reaches of the region. Image credit: Suedtiroler Weinstrasse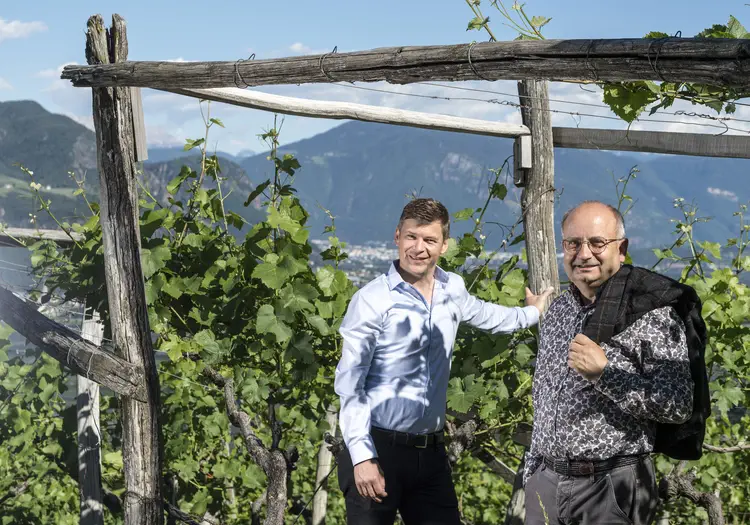 Ambassadors of Authentic Alpine character
In no other region do North and South meet with as much pride and conviction as in South Tyrol. The Alps and the Dolomites dominate the landscape, and winegrowing has been part of the local culture for thousands of years.
To the north are the Alps, protecting against cold winds and air masses with their heavy precipitation. From the south come Mediterranean influences and the Ora wind from Lake Garda, which ensures that the vineyards are well ventilated. There are also 1,800 hours of sunshine a year and temperature differences of up to 20°C between day and night. Add to this the enormous variety of soil types: moraine soils with porphyry, marble, gneiss, mica and limestone; debris fans with gravelly soils and a high proportion of Dolomite limestone; steep slopes with porphyry gravel; and sandy, porphyry-rich floodplain soils that all characterise the diversity, complexity and saltiness of Nals Margreid wines.
Like the excellent wines produced by it, the winery, modernized in 2011, is an expression of the terroir. Thanks to the joining of historical structures and the high standards of modern wine production, a complex of buildings evolved, that perfectly expresses the qualities.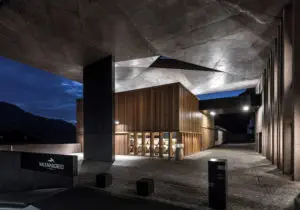 The modernized winery
Image courtesy of Nals Margreid