Welcome, Pink Agua!
Now Available in California
Wine and comedy share one defining parallel: the immediacy and authenticity of the audience's reaction. You know whether a joke is funny or wine tastes good immediately. Pink Agua by José Rosé was born out of a passion for comedy that, by hilarious and perhaps fated circumstances, led to an appreciation of wine. Pink Agua began with co-founder (and comic) Kris Rosenberg's creation of José Rosé, a fictional man of mystery and taste who lives in an alternate reality where he's become the official face of rosé. He dons pink suits, swirling a glass of his beloved beverage with his pinky out as he moves between luxurious settings.
Photo credit: MOSTWVNTED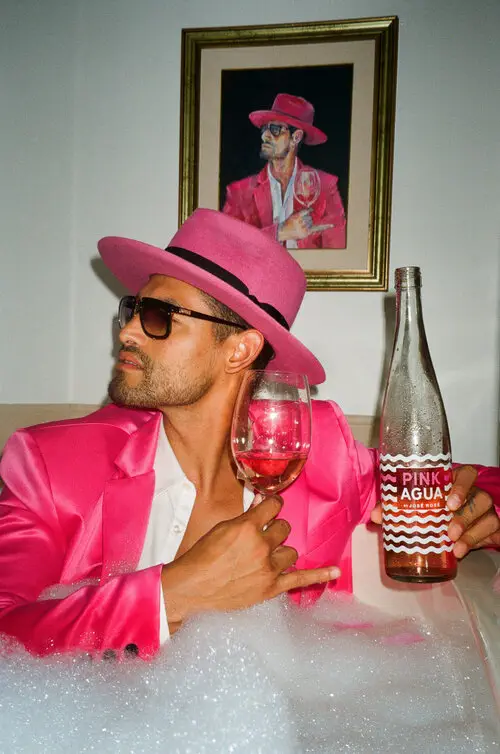 "The wine world has never seen a pairing this refreshing or funny."
The world of José Rosé eventually became too great to stay entirely fictional. Rosenberg partnered with his best friend Jonathan Marquez and met with countless California vineyards, eventually partnering with family-owned Le Vigne Winery in Paso Robles to produce a light, drinkable and vibrant rosé.
While crafted in humor, this rosé is no joke.
Photo credit: MOSTWVNTED
Pink Agua is made with 100% Grenache from Paso Robles. The nose is bursting with aromas of passionfruit, honeydew melon, and hibiscus that will sweep you away to the tropics. Strawberry is met in both the bouquet and the palate with delicate undertones of freshly cut guava and juicy Bartlett pear. The mouthwatering acidity and touch of viscosity carry each delicate flavor into a delicious, long-lasting finish. And it's already being well-received by critics and fans alike: Pink Agua was awarded Double Gold at the San Francisco Chronicle Wine Competition in 2021.
Serendipity is excited to represent Pink Agua in California. Want to try it yourself? Fill out the contact form below!