Welcome, Spottswoode!
Now Available in Texas
Established in Napa Valley in 1882, the iconic Spottswoode Estate is distinguished by the pre-Prohibition Victorian home depicted on their wine label.
Spottswoode was christened by Mrs. Albert Spotts in 1910 and later acquired by Mary and Jack Novak in 1972. Mary released Spottswoode's first Cabernet Sauvignon in 1982, exactly one hundred years after the estate's founding.
Today, Mary's daughter Beth Novak Milliken manages the winery, and daughter Lindy Novak serves as the winery's Marketing Ambassador. (Pictured right, image courtesy of Rian Designs)
In addition to being a multigenerational family business that is firmly grounded in stewardship and based on agriculture, Spottwoode is also a leader in green practices. Their "One Earth" program signifies the interconnectedness of the planet and the impact human decisions have on the natural environment around the globe. They belong to and support a multitude of organizations working to better the world, and are dedicated to replicating those efforts on their own property. Spottwoode was one of the first Napa wineries to be certified organic with CCOF in 1992, and today are also certified biodynamic, B Corp, Napa Green Vineyard and Winery, and member of One for the Planet. 
Stunning Depth, Classic Definition, and Impeccable Craftsmanship
Every year Spottswoode releases an Estate Cabernet Sauvignon and an Estate Sauvignon Blanc. In addition, Spottswoode produces a Napa Valley Cabernet Sauvignon called Lyndenhurst.
Committed to producing wines with integrity that faithfully reflect their grape origins, Spottswoode wines are especially known for their refined elegance, balance, and classic structure.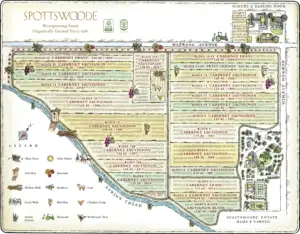 Spottswoode Estate Certified Organic Vineyard
Map courtesy of Spottswoode Estate
The Line-up: 
Serendipity is honored to bring these iconic, women-made wines to the Texas market. Want to try them yourself? Check out the full line-up, then fill out the contact form below!