Few distillates highlight a sense of place with as much reverence for the natural, untamed world as Bareksten Spirits. Founded by Norwegian champion bartender Stig Bareksten in 2015, the once bio fuel factory is now home to OSS Distillery. It's here in his homeland of Bergen that Stig revives the art of foraging, using his industry know-how and unwavering love of botanicals to tell a story that is distinctly Norway in a bottle. After the release of their first gin garnered recognition worldwide, Stig set to work creating another spirit that is common to his country's core: Aquavit! Vibrant, fresh, and herbaceous, this versatile spirit embodies everything we love about gin alongside the unique, fantastical flora of Norway.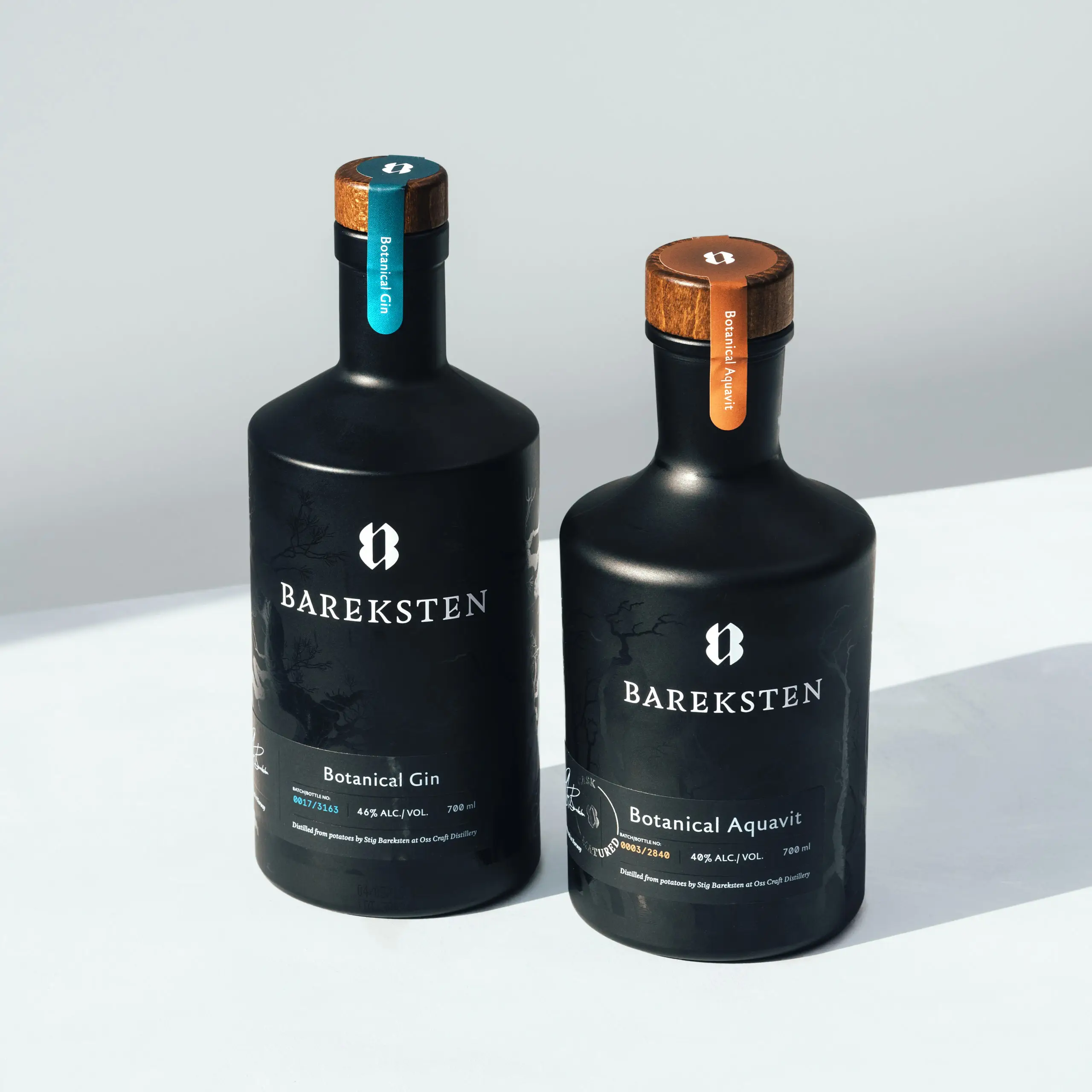 Aquavit has held a long-time position as the traditional, go-to spirit of Scandinavia. General production begins with a neutral grain and/or potato base spirit that is infused with herbs, fruit oils, and spices after distillation. It has no geographical restrictions, but it's safe to say that until quite recently (2010 or so) output has been limited to Sweden, Norway, Denmark, Finland and Northern Germany. In addition, there are no aging requirements for Aquavit— the spirit can range in color from pristine and clear to amber and oaked. In this instance, Bareksten's has a light golden hue as a result of brief oak aging.
Much like gin is all about the juniper, Aquavit is a celebration of caraway (with some regional variations that also emphasize dill). Technically in the carrot family, caraway is closely related to both parsley and cilantro. But unlike those bright, aromatic greens, you've probably only seen and tasted caraway in seed form. Native to Europe, the long, crescent-shaped seeds are often used in rye bread, sauerkraut, sausages and harissa. On its own caraway expresses notes of citrus, spicy heat, and, as a result of its essential oils, a pleasant toasted flavor. It also contains a component called 'anethole' which can give it a kick of black licorice. This baseline of flavors is essential to classic Aquavit.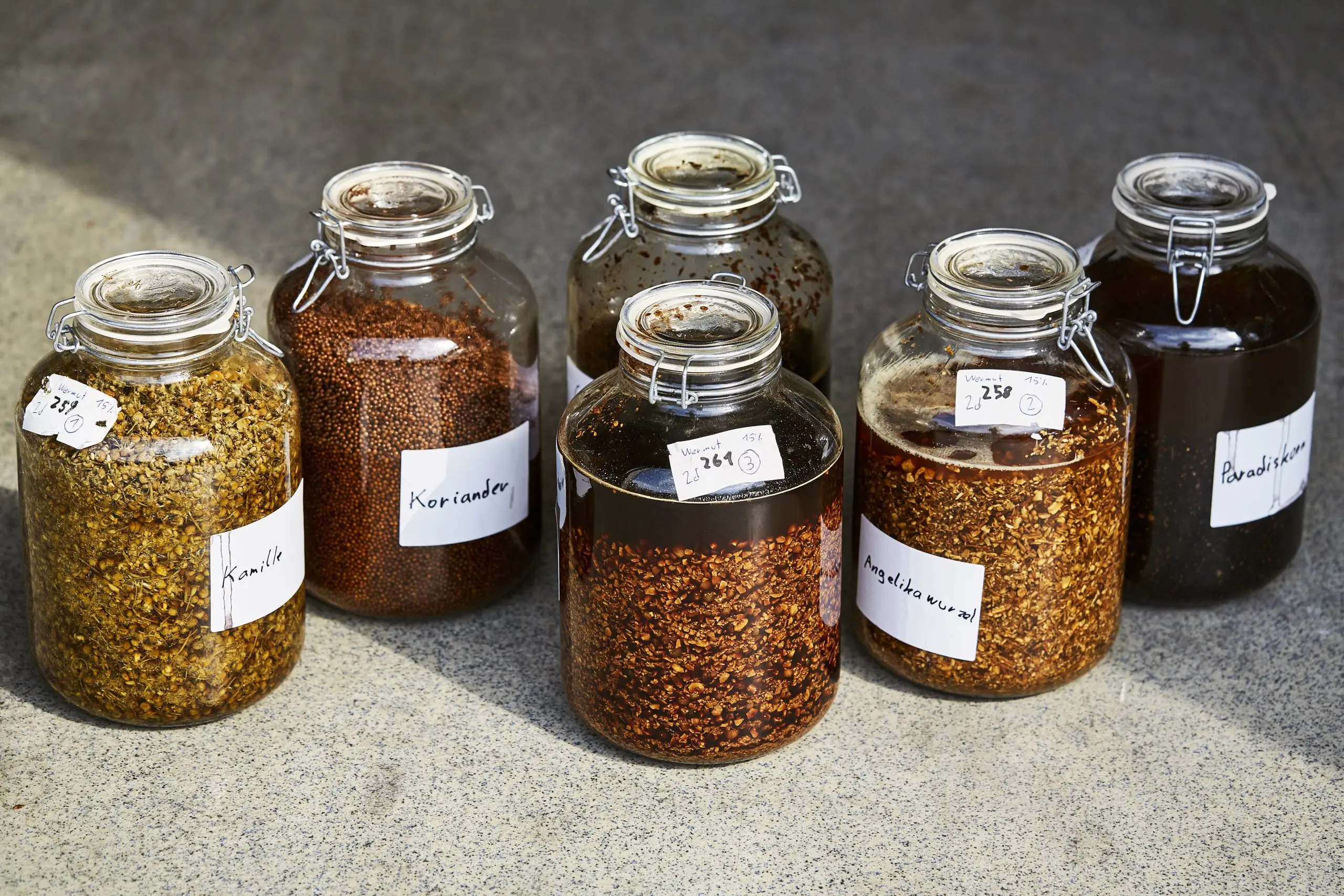 In order for it to appear on a label, the TTB in the U.S. requires that caraway be the dominant flavor in all Aquavit
Beyond the requisite use of caraway, Bareksten's Aquavit has little in common with versions made by their neighbors. From the packaging to production there's a modernity that nods to the familiar while building on it with story and excitement. The bottle is inky black with elegantly etched branches, alluding to the elemental, craggy and curiously gothic landscapes that comprise Nordic folklore (and terroir). Stig, who has a mage-like presence, embraces the dark, polar nights of Norway and believes in doing product development during those dim hours. It's hard to look at a jet-black bottle of Bareksten and not be instantly drawn to it.
On the inside, the eau de vie is rich, smooth, and sapid. They use local potatoes to create their base, which intentionally aligns with multiple Norwegian sustainability efforts. A majority of the herbs and berries used post-distillation are gathered directly from around the distillery. There's a clear emphasis of that beloved caraway with overt tones of Angelica root and orange peel. For added depth and length, it matures in Oloroso shrerry casks for a full six months. Overall it is subtle and clean with a light creaminess and aromatic complexity. And a fast, promising favorite at the 2021 International Spirits Challenge and 2022 London Spirits Competition, where it was awarded gold and silver, respectively.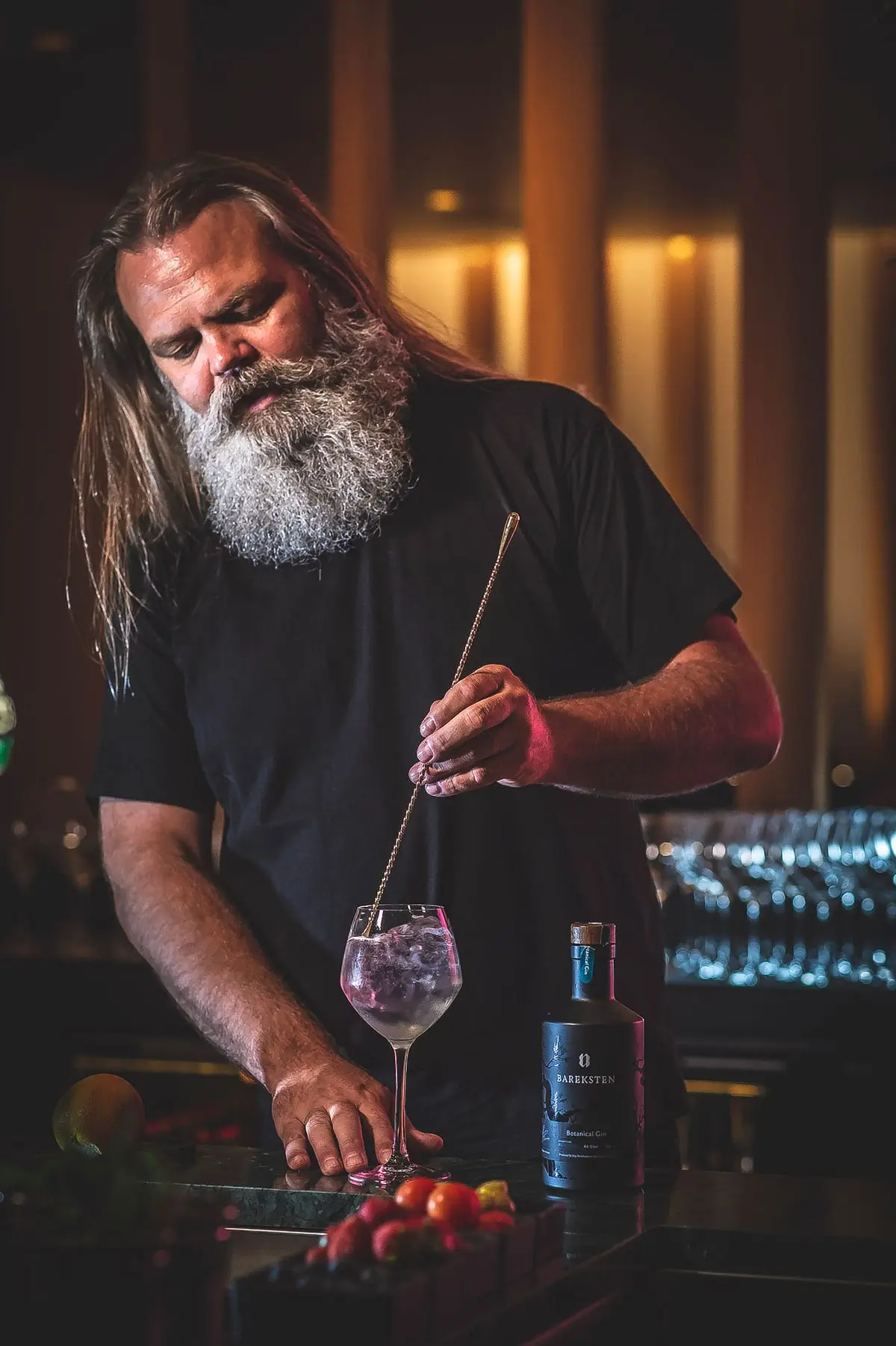 "
I will always see myself as a barman, and am lucky enough to be able to distill my own version of spirits."
Are there rules to enjoying Bareksten's ethereal Aquavit in 2022? Absolutely not. In contrast to its stark vessel, this Aquavit is brimming with versatility. Enjoy it the traditional Norwegian way at your preferred temperature with a simple tulip-shaped glass. Pair it with any and all seafood, especially cured fish, smoked herring and crawfish boils. And to truly embrace the "water of life" for which this spirit was named, keep it on hand for festive gatherings (like Christmas!) and embrace the ritual of quality, uncomplicated shots among friends.
Let's not forget, though, that Stig was a nationally lauded bartender before he ever became a Master Distiller. His Aquavit easily adapts to craft cocktail recipes and even elevates standard mixed drinks. Put the vodka down and transform your Bloody Mary with Aquavit as the base liquor— it will add a toasty warmth and textured complexity to a brunch favorite. Or try it with ginger beer for an all-pleasing take on a Moscow Mule. For the purist, fall in love with the Old-Fashioned again, replacing whiskey with this refreshing alternative.
Tangy and savory, traditional and yet contemporary, Bareksten Aquavit is a complex, heartfelt ode to Norway. Whether you're trying to branch out from your gin routine or are looking for the next authentic, top-quality distillate to add to your bar, there's no time like the present to embrace this blossoming category of spirit. Lose yourself to the botanical whimsy that is Bareksten Aquavit this winter season and beyond!