Welcome, The Vineyard House + Jeremy Nickel Cellars!
Now Available in Texas
Jeremy Nickel (pictured, right) continues his family's rich legacy and history in the Napa Valley through his own vineyards and wine. His story begins with his father, Gil Nickel – who was one of the founders of Far Niente, founded Dolce and later, Nickel & Nickel. The wines of the Vineyard House and Jeremy Nickel Cellars pay tribute to his father Gil. Image courtesy of The Vineyard House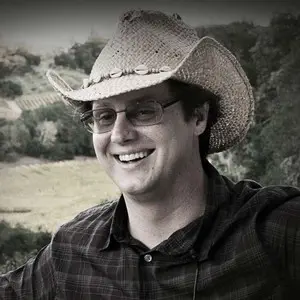 Jeremy grows Cabernet Sauvignon, Cabernet Franc and Chardonnay. Look closely at the label of The Vineyard House bottles – placed in the gold tendrils of the vines, Jeremy's fathers name is spelled – spin the bottle around and you see an embossed image of the actual "vineyard" house. Looking out the window, on the second floor, is an image of Gil Nickel making a toast with a glass of wine, perhaps a toast to his son who he would be rightly proud of continuing on his family's wine legacy in the Napa Valley. Jeremy selectively distributes his wines in states that he has a personal connection to – California, Texas, Nevada and Oklahoma (where he still calls home). TVH also donates 10% of all the proceeds from the sales of the wines to various charity organizations primarily supporting education in Africa and Cancer research.
Cult Classic Wines made with Integrity & Passion
In 2003 after Gil passed away, he left this property and house to Jeremy. Jeremy has since expanded the property – there are now 33 acres, of which 25 are under vine.

TVH grows Cabernet Sauvignon, Cabernet Franc and in a testament to his father's original love affair with Montrachet, there are 10 acres of Chardonnay still under vine.
Jeremy Nickel Cellars has some of the deepest roots in some of Napa's most iconic wineries. At JNC, Jeremy has been able to take years of experience and insight in winemaking and source fruit from some of the most exclusive vineyards in the Napa Valley.

His flagship Cabernet Sauvignon has amassed a cult following, and the Chardonnay is again a nod to Gil.
Content sourced from The Napa Project.
Serendipity is excited to bring these super limited, rarefied wines to Texas. Want to try them yourself? Check out the full lineup, then fill out the contact form below!