In partnership with Serendipity, Pedernales Cellars is available in the Texas market.
It's hard to ignore the draw of the Texas Hill Country, a wine destination whose popularity is charging forward at an incredible, carefree velocity. And for good reason: after years of locals championing the potential for high-quality grape growing, the rest of the world finally saddled up and sipped. This month we had the pleasure of sitting down with one of the area's most influential pioneers, Julie Kuhlken of Pedernales Cellars. Over swirls of Viognier and tastes of Tempranillo, the founder and co-owner (among many other hats) shared with us her wealth of expertise on the history, challenges, and sustainability driving this essential Texas winery.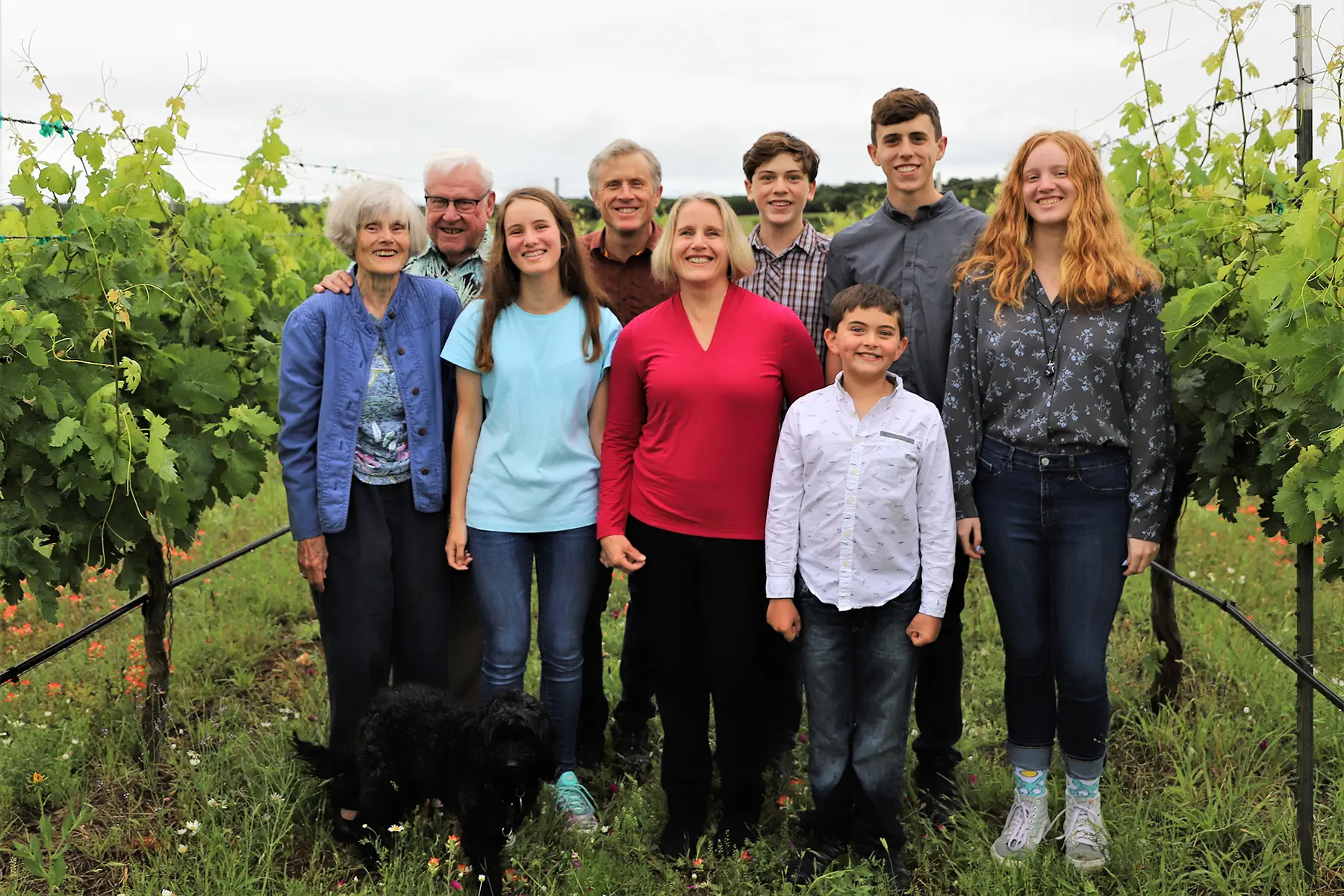 In the 90's,
Larry and Jeanine Kuhlken established their first vineyard near Fredericksburg. With their children Julie and David at the helm it would later become Pedernales Cellars. This family winery is now in its 6th generation.
Representing the Bell Mountain AVA
The history of Pedernales Cellars is inextricably tied to Texas' oldest American Viticultural Area: Bell Mountain AVA. Covering 5 square miles and now completely surrounded by the Hill Country AVA, Bell Mountain emerges from a geologically ancient dome called the Llano Uplift. It was here that Larry and Jeanine ambitiously took on the task of planting and managing vines across a hulking 4 acres when little was known about which varieties would thrive in the sweltering, rugged climate. Today Julie and her brother have expanded their holdings to around 15-16 acres. They share the AVA with just one other vineyard— making them the near sole expression of Texas' first AVA.
Bell Mountain's character is defined by its sandstone and limestone soils and the degraded stone is perfect for stressing vines in all the right ways. It's not the highest point in the Hill Country, but it does reach elevations up to 1800 feet above sea level. The Kuhlken estate lives on a hillside to help with air circulation and mitigate heat. While Pedernales Cellars has traditionally grown both red and white grapes, they've taken the past three years to plant entirely red varieties. All of the Pedernales classics will be there and make their debut in bottle next year: Tempranillo, Grenache, Mourvedre, and Touriga Nacional (which does well in Texas as a highly structured grape). And for the first time, they're branching out into other Portuguese grapes, Petite Sirah, and the perfect Sangiovese clone.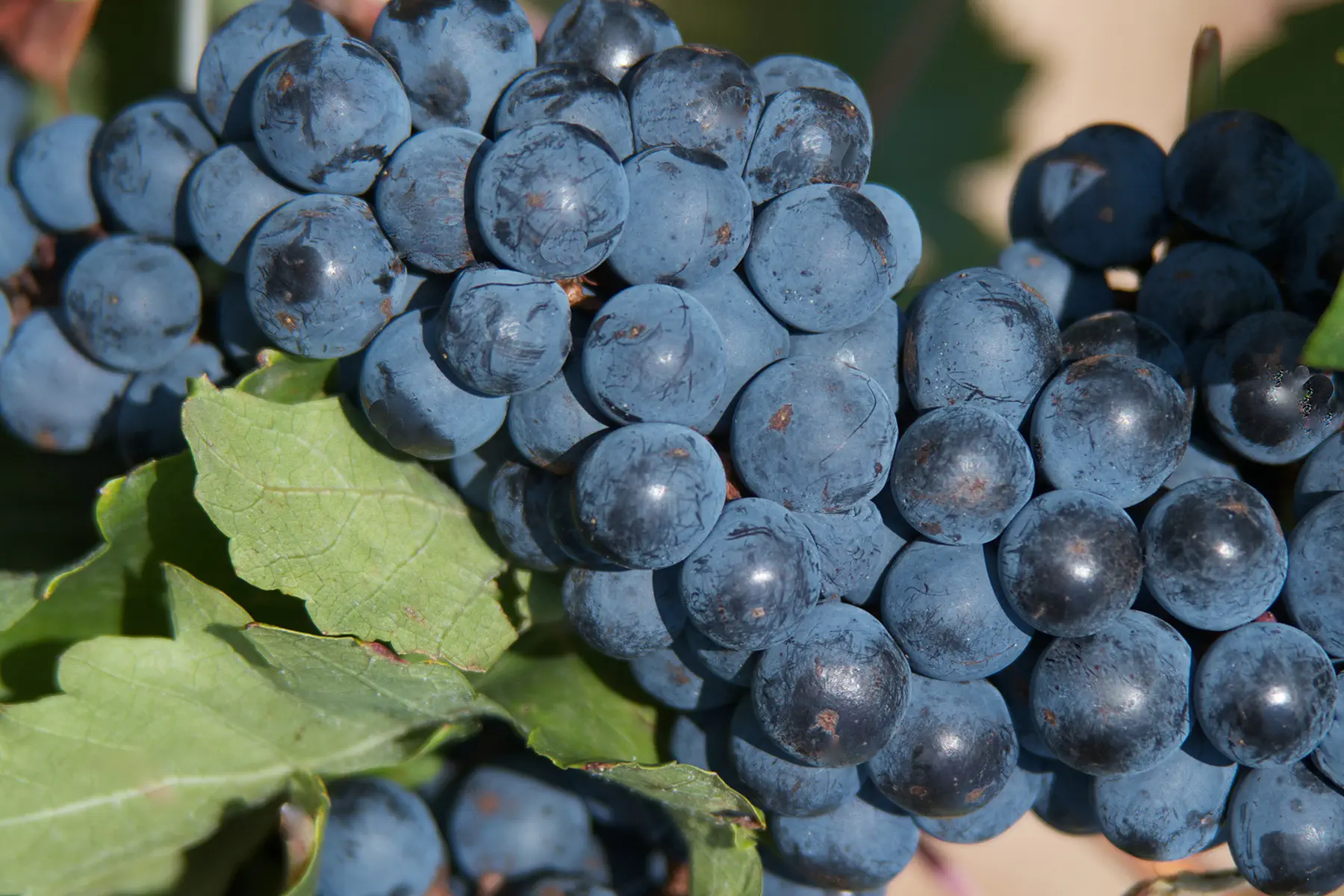 Overcoming Challenges in 2022: Grapes and Grower Relations
Apart from their estate vineyard, Pedernales Cellars also works with a number of growers across Texas. These farmers are mostly situated in the Texas High Plains AVA (the second largest AVA in Texas, located in the panhandle), with sites that include Bingham Family, Desert Willow and Lahey Vineyards. They've been fostering these relationships since their initial wine release in 2006, and the long contracts have been vital to producing quality wines in a time when competition for Texas grapes is only growing.
When asked what their biggest challenge was in 2022, Julie explained to us that it all comes down to yield quantity. There are numerous reasons why yields suffer in Texas and ultimately it is up to the winery to prepare for whatever conditions might be thrown their way: whether that's drought, excessive heat, or abnormal weather in general. When it comes to heat, those dry conditions can lead to smaller berries, meaning less juice to make wine all around. 2022 suffered an intense drought, and because this is an all-too-common scenario, their team has gotten into the habit of over-contracting for fruit as a way to ensure they'll be able to meet their consumer demands— which are clearly high.
White varieties, overall, experience a more difficult time surviving Texas' harsh agricultural conditions. In 2020 an unexpected frost devastated Pedernales' Viognier yields, which Julie described as a "total bust" in terms of numbers. On top of that, she noted that it takes a full year's cycle for Texas Viognier to recover and begin producing healthy yields of fruit again. They're also up against another unpredictable variable: the problematic presence of dicamba. This controversial herbicide is primarily used in neighboring Texas High Plains cotton fields that may be disseminating across vineyards and causing widespread cupping, shriveling, and death. They lost some Vermentino to the blight, but luckily their grower relations have helped keep them afloat.
Sustainability at Pedernales Cellars
Pedernales Cellars practices an exhaustive number of sustainability practices (for a full list, read here), but most compelling on this particular visit was hearing about the next steps in their evolution. They've recently installed a 50,000 gallon rain water tank on the hill next to their production site. After less than a year it is already 90% full and has eliminated their need to irrigate using any well water. It can't be understated how impactful this is considering depleted water tables in Texas and beyond. They've also made strides in renewable energy, investing in something called a 'geothermal cooling system' for their cellar and production area. The technology forces air down into their cellar where it cools naturally, removing the need for air conditioning.
Up next, Julie let us know they've begun working with a grower to convert some vineyards to organics, with a potential second organic vineyard in the works. We can also look forward to their thriving keg program. It utilizes one-way key kegs that are fully recyclable and reduce transportation footprints.
"We're trying to remain as honest
and sustainable as possible." -JK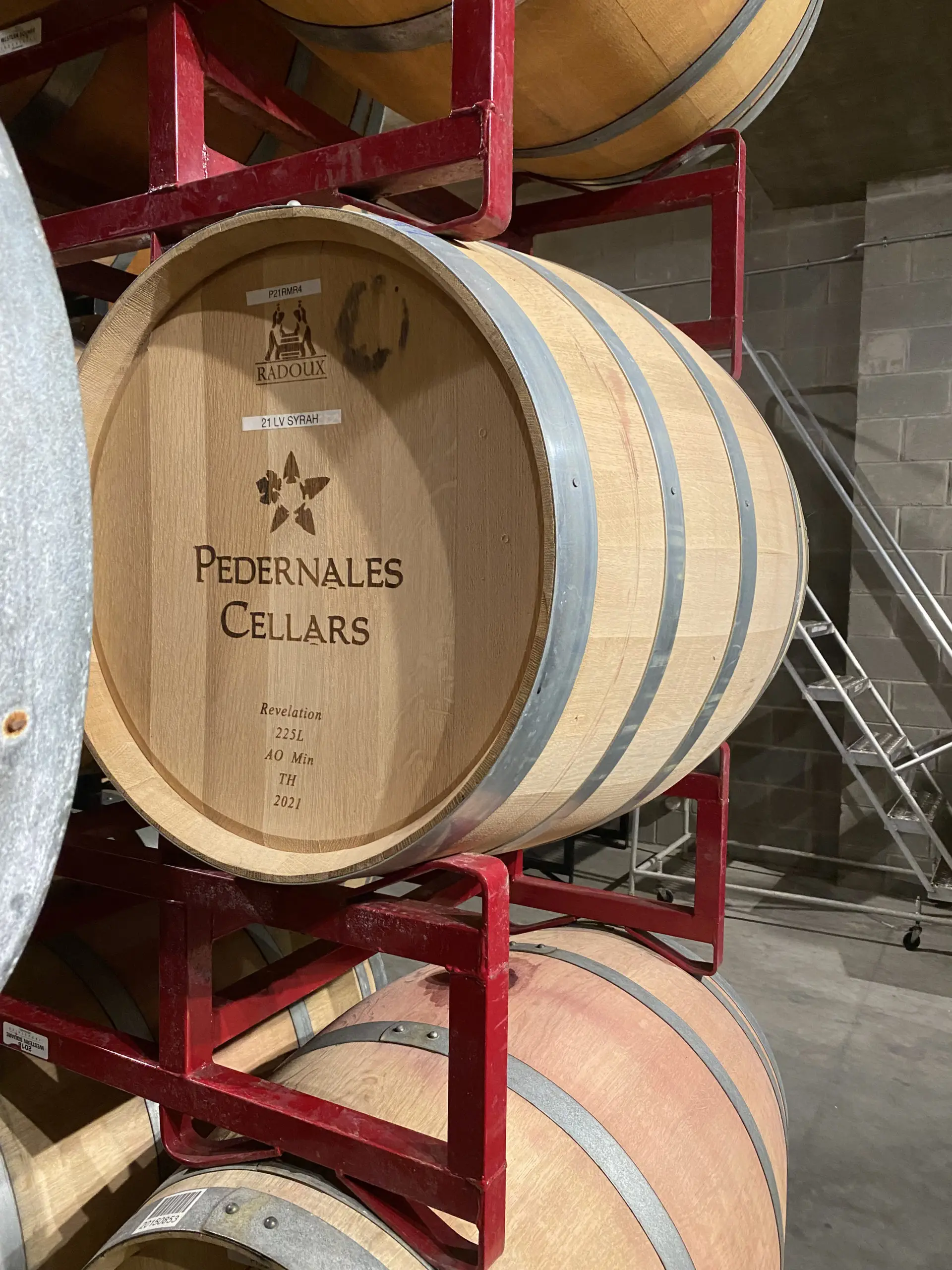 At the end of the day, Pedernales Cellars produces consistently delicious wines that showcase enduring Texas vines from the Hill Country to the High Plains. But don't just take our word for it, explore our partnered offerings below:
Explore Pedernales Cellars