Casa Emma – Chianti Classico Riserva DOCG

The Facts
UPCs
2019 (750ml) - 6 63356 78908 3
2017 (750ml) - 6 63356 78908 3
2016 (750ml) - 6 63356 78908 3
2015 (750ml) - 6 63356 78908 3
Origins
Italy > Tuscany > Chianti
Appellation
Chianti Classico
Cepage
95% Sangiovese, 5% Malvasia Nera
Winemaking
18 day open barrel maceration then fermented in stainless steel.
Aging
2 yrs in oak barrels from Allier
Annual Production
1650 cases
Markets
California, Texas, National
The Character
Aromas
Cassis, Blackberry, Vanilla, Baking Spice, Wild Berry, Cedar, Cherry, Blue Flower
Mouthfeel
Delicate, Piercing & Tannic
Tasting Notes
This is a terrific expression to sample with a platter of thinly sliced pecorino and prosciutto. The Casa Emma 2016 Chianti Classico Riserva shows lots of fruit purity and sharp lines with bright and brilliant fruit, cassis, wild berry and crushed blue flower. From a classic vintage, this Sangiovese shows a fine sense of elegance and length, with a silky and polished finish followed by smoke, crushed stone and light toast.
Selling Point
Delightful organic elevation of an Italian staple
Pairings
Beef Bolognese, Pecorino with Salami, Pork Belly Banh Mi
Awards
2016 - 92pts Robert Parker
2015 - 94pts James Suckling, 92pts Wine Spectator, 92pts Robert Parker
Sustainability
2016 - Certified Organic, Biodynamic In Practice
2015 - Certified Organic, Biodynamic In Practice
The Story
As opposed to its goose-raised counterpart, this riserva is crafted through more traditional methods by the winery whilst remaining sustainable. Picked from two contrasting vineyards, this elevated piece of Italy is complex and vibrant.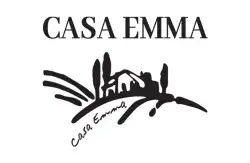 Brand Story
Founded in 1969, when Fiorella Lepri took a leap of faith and purchased the property from the Florentine noblewoman Emma Bizzarri. Maintaining her legacy through the name of the winery, "Casa Emma."
Brand Story
Founded in 1969, when Fiorella Lepri took a leap of faith and purchased the property from the Florentine noblewoman Emma Bizzarri. Maintaining her legacy through the name of the winery, "Casa Emma."