The Facts
UPCs 2020 (750ml) - 7 21512 00502 3
Origins
USA - CA > North Coast
Winemaking
Low impact winemaking with top quality fruit; No sulfites added, 100% organic processing.
Aging
In stainless & exposed to French oak staves
Markets
California, Texas
The Character
Overall
Food-friendly & fruity
Aromas
Fruity with deep blackberry notes and a savory touch of black olive & bell pepper
Mouthfeel
Smooth finish with gentle tannins
Tasting Notes
Food-friendly and fruity with gentle tannins and a smooth finish. • Crafted with care – no added sulfites, no acid or sugar adjustments, no tannin additions. • True flavors of the vineyard and vintage shine through. • Aged in stainless steel with French oak.
Selling Point
USDA Organic, NSA, Vegan, Gluten Free and Keto friendly
Pairings
garden pizzas to pasta salads
The Story
Committed to purity in winemaking and ecological responsibility. • No chemicals or preservatives are used at any point in the winemaking process. • Produced with minimal manipulation to express the quality of our GMO Free County. • Fruit from Frey Vineyards and other organic family farms in Mendocino County, Calif.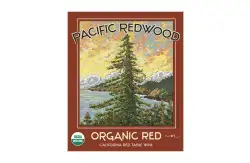 Brand Story
Pacific Redwood Wines are part of the Frey Vineyards family. Frey Vineyards is the oldest and largest purely organic winery in the United States. We were also the first in the country to produce Biodynamic® wines in 1996. Our vineyards and winery are nestled on the slopes of the Redwood Valley A.V.A. in Mendocino County, California. All grapes for the organic wines are grown in accordance with the USDA organic standards and certified by Stellar Certification Services. Our wines are made without adding any sulfites.. Emphasis is on producing wine of the highest quality while caring for the planet and palate alike
Brand Story
Pacific Redwood Wines are part of the Frey Vineyards family. Frey Vineyards is the oldest and largest purely organic winery in the United States. We were also the first in the country to produce Biodynamic® wines in 1996. Our vineyards and winery are nestled on the slopes of the Redwood Valley A.V.A. in Mendocino County, California. All grapes for the organic wines are grown in accordance with the USDA organic standards and certified by Stellar Certification Services. Our wines are made without adding any sulfites.. Emphasis is on producing wine of the highest quality while caring for the planet and palate alike