The Facts
UPCs 2018 (750ml) - 8 79039 00297 8
Origins
USA - CA > Sonoma County > Alexander Valley
Appellation
Alexander Valley
Varietal
Cabernet Sauvignon
Aging
18mo in 30% new French oak
The Character
Tasting Notes
The 2017 is a luscious, easy-drinking edition of this flagship. The nose shows blackberry jam, violets, and coffee. I get just a touch of baking spice aroma from the French oak, barrels, too. Wow. The palate is full of Santa Rosa plum, fresh blackberry, and dark chocolate. Surprisingly smooth and long on the finish for it's age.
Pairings
Enjoy with red meat, game, hard cheeses
The Story
Our Alexander Valley Estate Cabernet is always 100% varietal and always a blend of fruit from all three of our vineyards: Red Winery, Pyramid, and Stone.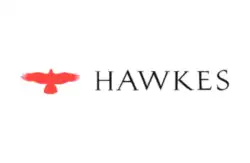 Brand Story
In 1971, Stephen & Paula Hawkes bought a 65-acre farm in southern Alexander Valley, where they have been living & farming grapes since. Jacob, a bald man in his early 40's with a sort of athlete-gone-to-seed figure, was born & raised on that farm. Never planning to make wine, he left home & bumped around. His jobs varied. Nightclub doorman in New York, grape-picker in Australia, alcoholic in Mexico, English teacher in Texas, but wherever he went, he failed. And when he failed, he came home & worked the vineyard. Today, Jake is resigned to failure. The upside is, he loves what he does! In dreams, he wanders the landscape of American Cabernet, looking upon the empty plain. "I will make great Cabernet for our time" he shouts. "Pipe down" his wife says, "You'll wake the baby."
Brand Story
In 1971, Stephen & Paula Hawkes bought a 65-acre farm in southern Alexander Valley, where they have been living & farming grapes since. Jacob, a bald man in his early 40's with a sort of athlete-gone-to-seed figure, was born & raised on that farm. Never planning to make wine, he left home & bumped around. His jobs varied. Nightclub doorman in New York, grape-picker in Australia, alcoholic in Mexico, English teacher in Texas, but wherever he went, he failed. And when he failed, he came home & worked the vineyard. Today, Jake is resigned to failure. The upside is, he loves what he does! In dreams, he wanders the landscape of American Cabernet, looking upon the empty plain. "I will make great Cabernet for our time" he shouts. "Pipe down" his wife says, "You'll wake the baby."